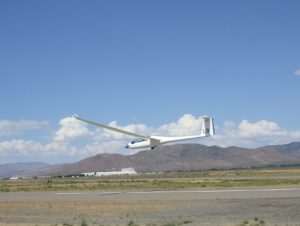 Due to the fabulous weather and year round flying season, the NW Nevada region is home to a variety of aviation activities all the way from paragliding and ballooning to the RENO AIR RACES and Warbird restoration. In particular, the Carson Valley is the site of one of the world's most renowned Sailplane Soaring locations at Minden -Tahoe Airport, MEV. There is something here for every Aviator!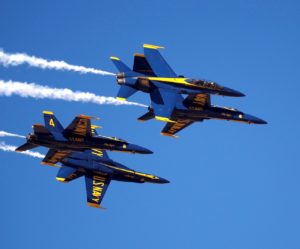 In 2015 and 2017 the Air Force Thunderbirds performed at the Minden-Tahoe Airport Aviation Roundup. In 2018, it was the Navy's Blue Angels who were the star performers. Along with these teams, were the cream of the air show performers roster, thrilling the crowds with all sorts of aerial displays. Lots of modern and classic aircraft were staged on the ramp for viewing and show vendors supplied the refreshments and souvenirs. 2 days of fun for the local population to enjoy!
In the course of a day in the Carson Valley it is not unusual to see:
Early morning Balloon flights originating from Lampe Park in Gardnerville.
Hang- or Para -Gliders flying by from their launch at Slide Mountain, north of Carson City. Para Gliders launching from Kingsbury Grade or Hot Springs Mountain near Minden.
Numerous Sailplanes setting altitude and distance records, flying in Thermals and Wave.
All types of home-built, experimental and GA aircraft going about their business or pleasure.
WW2 bombers and other Warbirds doing "touch and goes".
Aerobatic pilots practicing their routines.
Albatross Amphibians flying from their famous restoration base at Carson City Airport
and Business Jets serving the needs of the local business community.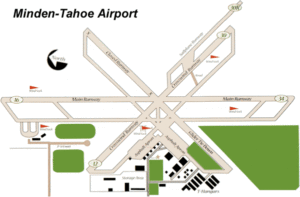 | | |
| --- | --- |
| 1146 Airport Rd., Minden, NV 89423 | Rwy 16 RH pattern, Rwy 34 LH pattern 7400'x100′ asphalt |
| Admin/Info: 775 782 9871 | Rwy 12 RH pattern. Rwy 30 LH pattern for powered a/c, RH for gliders. 5300'x75' asphalt |
| Coordinates: 39 00 03N 119 45 18W | Pattern alt. 5,700′ light a/c 6,200′ heavy/fast a/c |
| Chart: San Francisco SFO Sectional CG18 WAC | Calm wind Rwy 34, lighted, wind T at midfield |
| Frequencies: CTAF/UNICOM 123.05 AWOS 119.32 | Lighting 122.8 med. intensity on 16/34 VASI on 16/34 |
Private or Commercial hangars are often for sale at MEV. All are on leasehold airport land. There is a variety of sizes from 1,500sf to 10,000sf. Many are condominium ownership (not residential) which makes it possible to get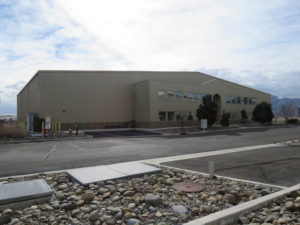 purchase financing. Others are on individually leased plots. Hangar use and occupancy needs to be aviation based and is subject to various MEV rules and regulations. The building in the picture above, has 2 x 5100sf and 1 x 9680 sf hangars, plus 4 x 1,000-1,100sf offices making a total of approx 24,000sf, for a list price of $1,499,000.
Other hangars – T type or regular shapes, come on the market from about $90,000 and up, based on sq. footage and if it can be used commercially or privately.
For pilots who would like to live with/near their aircraft, homes and lots are occasionally available at two local Airparks.
Dayton Valley Airpark about 17nm NE of MEV, is part of residential community adjacent to an Arnold Palmer designed golf course. Dayton is a 15 min. drive east of Carson City on Hwy. 50 and is a growing community with reasonably priced homes. Some beautiful homes are already built on larger lots and some sites are often available on the airpark. The developer built a few homes with hangars, on smaller sites with runway access.
Farias Wheel Airpark/ Valley View Airport, NV33, east of the Pinenut mountains, is about 19nm SE of Minden-Tahoe Airport. This is very rural! Farm and ranch land, with spectacular views and lots of peace and quiet. Occasionally a home/hangar is for sale. Please call me for current availability.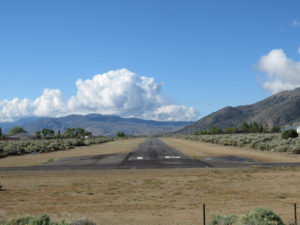 Located in Smith Valley, this area is convenient to Topaz Lake for recreation and has easy access to Hwy 95 and Las Vegas. A short flight will take you to Minden-Tahoe, Silver Springs, Carson City, Yerington, Reno or other rural airports .
Carson City airport, KCXP, 12nm N of MEV is quite active, with a local EAA chapter, Warbirds/Military, Albatross Flying Boats and lots of other interesting aircraft. Small hangars rent in the $250-500 range. A condo T hangar can occasionally be bought. There are no airport home sites, but Carson City has a wide variety of homes for sale at all times and the Carson Valley residential areas are only 10-20 mins. drive to the south. Hangar rents are about the same at Minden–Tahoe and some sites are occasionally available to lease, for you to build your own. There are hangars for sale fairly often.
Soaring NV
Minden Soaring Club
Minden-Tahoe Airport
National Weather Service Reno