Johnson Lane
Johnson Lane is the name given to a rural area in the north east corner of Carson Valley about mid-way between Minden and Carson City. It covers about 22 square miles at 4800' elevation, with about half of that area featuring homes on 1 acre and smaller lots and the remainder being larger farm and ranch type properties. There are about 2000+ homes with a population of approximately 7000. Johnson Lane is serviced by the Minden Post Office and the zip code 89423. Pinion Hills Elementary school is there for the young families and older children would mostly attend Carson Valley Middle School and Douglas High School. The Johnson Lane Store provides for conveniences and gas and there is a Volunteer Fire Station on Stephanie Way.
[mappress mapid="9″ alignment="right" width="50%" height="450″]The area is accessed from Hwy 395 by Johnson Lane on the south, Stephanie Way on the north and East Valley Road from the eastern and south part of Carson Valley. The terrain rises slowly from Hwy 395 going east and is mostly flat with the usual mix of sagebrush and agricultural crops. Some home sites are on the higher elevations and provide excellent views of Carson Valley and the Sierra and Pinenut ranges.
Like other east-side Carson Valley locations, Johnson Lane has easy access to thousands of acres of public land for hiking, riding and other outdoor adventures.
The earlier home sites in Johnson Lane from the 1960s and before, were usually ranchettes on 1 or more acres with a number of larger parcels that have since become subdivided. Many of the older homes are small and start the market price range for Johnson Lane at about $295,000. Through the 70s and 80s many of the existing streets were developed with homes on 1 acre lots which today are priced from around $325,000 and up, with an occasional one being lower.
In more recent times a number of subdivisions have been created to cater to the influx of out-of-state retirees and feature home types and designs that are contemporary and innovative, with emphasis on easy maintenance and lifestyle quality. These homes are generally in the $400,000 and up range. Almost all are 1 story and the newer developments have underground utilities and front yard landscaping that keep everything looking tidy and well cared for.
Here is a summary of some of the Johnson Lane developments. Many other parts of the area have individually built and designed homes, so there is something for everyone!
Meadowgrass: This is the first subdivision you meet on Johnson Lane at Wildhorse Lane. The homes are mostly 1500 -2200sf and are on 1/3-1/2 acre lots and have recently sold in the $360,000 to $475,000+ range.
Wildhorse: North of Meadowgrass, and with similarly sized homes, this subdivision contains a variety of home styles on lots that are 1/4-1/2 acre and have recently sold in the $350,000 to $500,000+ range.
North Fork Trail: This is a collection of about 40 homes located just off Stephanie Way. The development is gated and fenced and the homes were built since 2004 with floor plans and sizes aimed at the upper end of the Johnson Lane market. None are for sale currently or sold recently, but prices would start around $600,000 with most homes being quite a lot higher.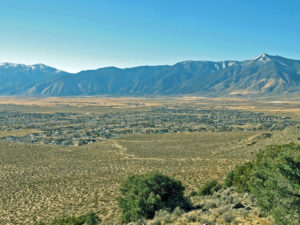 Saratoga Springs: This is the largest development in Johnson Lane and was begun around 1994. The last remaining lots are now being built on. There are several hundred homes of varying size and style, with the emphasis on the needs of retirees and families. Originally intended to be a golf community the space for the golf course now is home owner association owned and has walking/biking trails, a children's playground and lots of open space. Many of the homes back to this open space and enjoy privacy and open views. Recent sales prices range from $400,000 to $650,000+
Mission Hot Springs: Mostly on ½ to 1 acre+ lots these homes are located at the base of Hot Springs Mountain in the NE part of Johnson Lane. Many enjoy elevated sites that allow valley and mountain views. The homes have a range of styles and size and are generally in the $400,000 – $650,000+ range with some of the larger homes being higher. Recent sales have been from $400,000 to $540,000.
Bramwell Homestead: A newer development of homes on 1-acre sites, mostly custom built. Some vacant lots are for sale. Unlike most of Johnson Lane, these are not "horse properties" and the mild CCRs are keeping the area looking tidy and prosperous. All lots are front fenced in white vinyl for uniformity, but the wide range of home styles gives a non-subdivision look. Homes have recently sold from $550,000 to $880,000 and a number of lots have yet to be built on.
Skyline Ranch: Built on elevated land in the SE corner of Johnson Lane, many Skyline homes back to BLM land and have excellent mountain and valley views. Most are 2000-3000+sf and with almost all being built by one builder/developer, have a consistency of style and quality that makes Skyline the first choice of any new Carson Valley residents. Lots are 1 acre and all homes are well landscaped and the streets tidy with underground utilities and white vinyl fencing. Homes have recently sold currently from $515,000 to $720,000.
The remainder of Johnson Lane appeals to horse owners with larger lots for livestock and hobby farms, or to outdoor enthusiasts with access to thousands of acres of public land and back-country trails. You can hike or ride for miles!
If you have an interest in buying or selling a home in the Johnson Lane area, please contact the writer, Samuel "Sam" Whiteside, Realtor with RE/MAX Realty Affiliates in Gardnerville. 775 721 5958. sam@carsonvalleyhomes.com
Johnson Lane listings are shown below. Inventory is currently very low, but new listings are always coming on the market!
A more focused search from the "Search Northern Nevada Markets" panel on the home page for Minden listings, will allow you to look under the "More" button and "REFINE" the search area based on MLS defined districts. Johnson Lane listings are found under G/M Johnson Lane. You can also choose Active, Pending or Sold listings and further define you searches.
This link will show you a location map for many of the Carson Valley residential communities. Carson Valley Neighborhood Overview Map

Sorry we are experiencing system issues. Please try again.