Genoa/Jack's Valley Rd.
Genoa, located on Foothill Rd/Jack's Valley Rd right at the base of the Carson Range of the Sierra Nevada, is known as the oldest settlement in Nevada, dating back to 1851. On the emigrant trail to CA, it was originally settled by Mormons as a trading post, followed by many European immigrants, some of whose families are still farming in the Carson Valley. [mappress mapid="19″ alignment="right" width="20%" height="450″]The town retains most of its pioneer days' charm and is listed in the National Register of Historic Places. Many homes dating back to the late 1800s are in a beautiful state of preservation, with ginger bread trim and well-tended gardens. The town streets of Historic Genoa are not paved, adding to the Old West charm. The local deer population walks through the town every day!
There are several original commercial buildings still in use, plus the Courthouse Museum and Mormon State Historic Park, that see a fair amount of tourist visits. The Genoa Town Park hosts outdoor events like weddings, picnics and concerts. Every year since 1919, the Genoa Candy Dance has been a major attraction that was originally created as a means to fund electric street lighting. It is now an extensive Arts and Craft Fair held in late September.
Monuments to the Pony Express Trail and Snowshoe Thompson are in the town, recalling the pioneer spirit of the valley.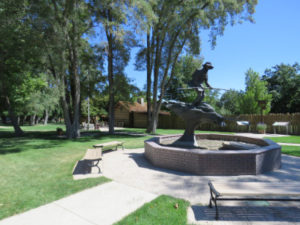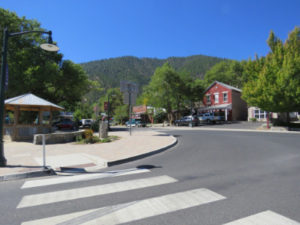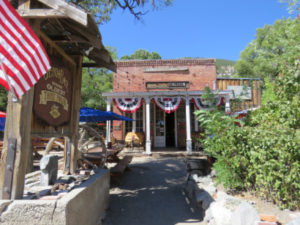 Genoa has it's own Post Office with the zip code 89411. Elevation in Genoa is 4806' and the town is located about 7 miles W of Minden.
Just south of Genoa is David Walley's Resort, a time share development on natural hot springs. The original Walley's opened in the 1860s, but now has the amenities of accommodation, restaurants and event facilities in addition to the spa and springs.
Homes in Genoa are generally at the upper end of the valley price range, many with panoramic views of the lush Carson Valley and the surrounding mountains. The setting is spectacular! In the town itself, many of the homes are from the late 1800s, up to the late 1900s, on small town lots or on several lots with varying degrees of landscaping and gardens.

Genoa Lakes is a relatively new development combining a Championship Golf Course with a gated residential community of high-quality homes. They are sited to take best advantage of the natural beauty and a few vacant lots are still available to allow buyers to build their own designs. Many exceptional examples are available as resales of custom-built homes, from about $500,000 to $1.5M+.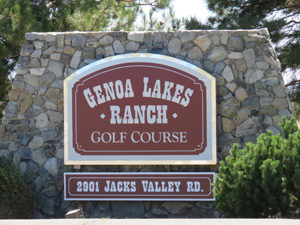 About 2 miles north is the Genoa Lakes Ranch golf course, where a variety of custom built and planned development homes are currently under construction or for resale. Some are located in proximity to the clubhouse and on typical golf course lots with others on the higher elevations with views across the valley from lots of up to several acres. Recent sales have ranged from $550,000 to about $900,000. The larger custom homes on the upper lots would be $1M++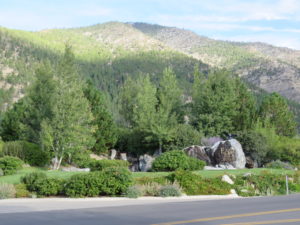 Overlooking Genoa Lakes and the entire Valley, is Eagle Ridge. This is a hillside location with 3-11 acre + lots, enjoying panoramas of the entire Carson Valley and Genoa. Recent sales of homes have been in the $1-1.5M range. About ¼ of the lots have been built on to date and several vacant lots are usually for sale.
The remainder of the area surrounding Genoa, has a mixture of historic homes and ranches, with more modern homes being on lots of over 1 acre. Plenty of variety for someone wanting the Genoa setting!
Continuing north from Genoa, past Eagle Ridge and the Genoa Lakes Ranch golf course, the properties are mostly larger and ranch style until arriving at Alpine View Estates in the NW corner of Carson Valley. Homes here are built at the foot of the slopes and partway up, giving great views to the West or South from about 80 2 acre+ lots. Only a couple of lots remain vacant at this time. Homes in Alpine View are of a variety of styles and sizes, due to being custom built over a span of years. They are "horse properties" but not too many horses are evident. Recent sales have been in in the $700,00 to $1.3M range, but there are some more modest ones that will be less and others, more than these.
Homes in Alpine View Estates are in Douglas County, but get their mail from the Carson City Post office with the zip code of 89705.
If you have an interest in buying or selling a home in the Genoa/Jack's Valley area, please contact the writer, Samuel "Sam" Whiteside, Realtor with RE/MAX Realty Affiliates in Gardnerville through this site or at 775 721 5958. sam@carsonvalleyhomes.com
This link will show you a location map for many of the Carson Valley residential communities. Carson Valley Neighborhood Overview Map
Clicking to "Search" below will find homes for sale within the MLS Alpine/Genoa area. The number of results shows above the map, which will locate the listings are you move through the page of results to your preferred location.
A more focused search from the "Search Northern Nevada Markets" panel on the home page for Genoa listings, will allow you to look under the "More" button and "REFINE" the search area based on MLS defined districts. Genoa listings are found under G/M Alpine/Genoa. You can also choose Active, Pending or Sold listings and further define you searches
Sorry we are experiencing system issues. Please try again.
Genoa Homes for Sale

Sorry we are experiencing system issues. Please try again.