Carson Valley
To search for listings in specific Carson Valley areas, please click on one of the other 10 Carson Valley and 1 Carson City Neighborhood pages.
What's it Like Here?
Lying just south of Carson City, the Carson Valley of Douglas County includes approx. 170 square miles in the west central portion of Nevada, immediately E of Lake Tahoe. The communities of Gardnerville, Minden and Genoa are all located in the Carson Valley, at elevations of about 4,700′ above sea level. The Valley is bordered on the west, by the Carson Range of the Sierra Nevada with peaks reaching 11,000′ and by the Pinenut Mountains on the east, rising to 9,400′. The views in all directions are SPECTACULAR!
Genoa, Minden and Gardnerville are the main centers in Carson Valley, with Minden being the Douglas County seat. Gardnerville is adjacent to Minden and the two towns have grown together since the early 1900s. Genoa is the first settlement in Nevada and with Minden and Gardnerville, is described in detail as one of the Neighborhood pages in this site. Carson Valley Neighborhood Overview Map
Most of the land area is public land or devoted to agriculture, with the rest being the various towns and residential communities. The East and West Forks of the Carson River join near Genoa and then cross the valley to head off NE and eventually disappear into the Carson Sink. Much of the agricultural land follows the course of the river and irrigates thorough a system of ditches and reservoirs.
Hwys 395 and 88 are the main routes through the valley and 206 and 207 take traffic over Kingsbury Grade to Lake Tahoe.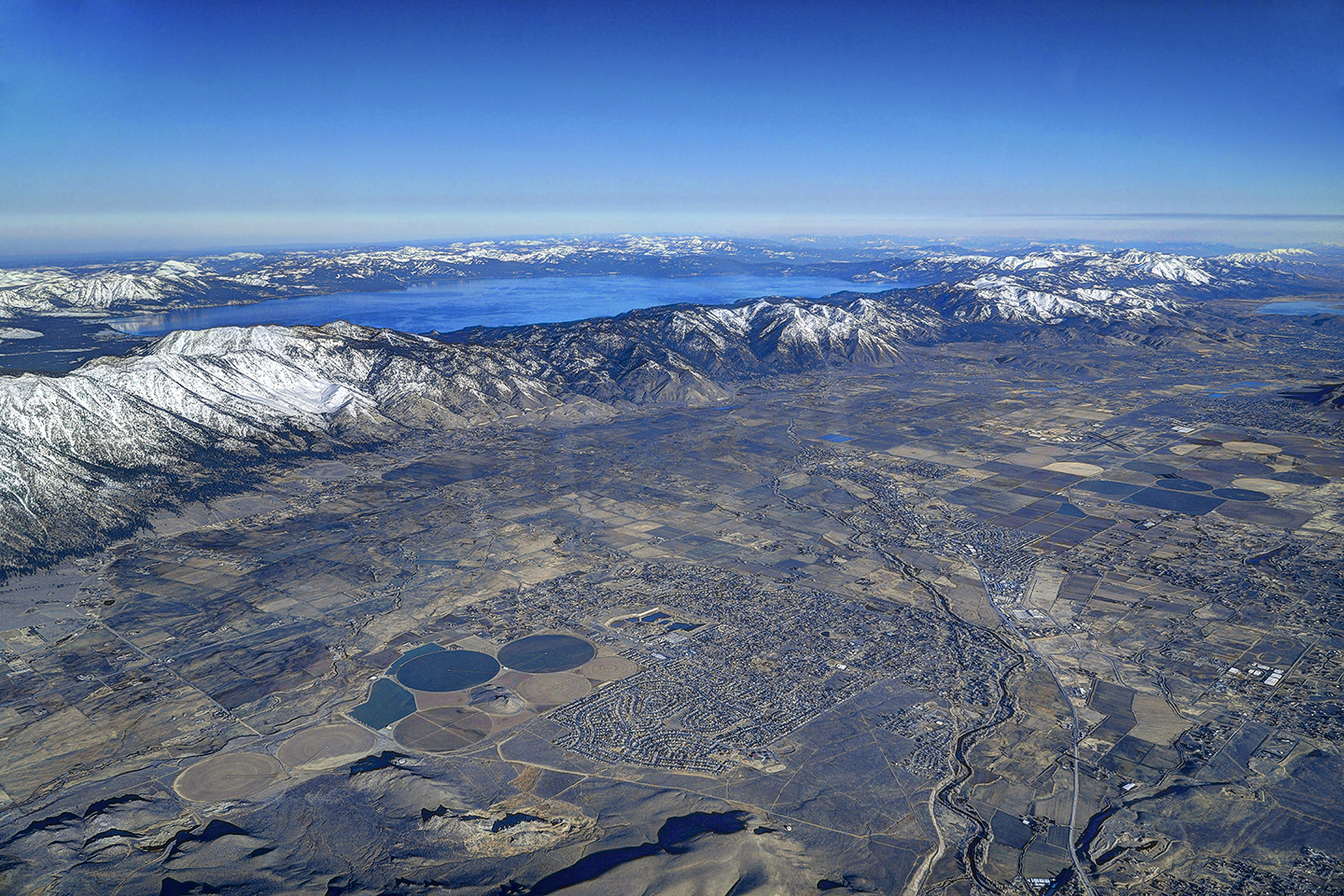 This pleasant rural area is known for its green open spaces, clean air, beautiful mountain and valley views, moderate climate and no traffic congestion. With four distinct seasons, the recreational possibilities are endless.
Carson Valley offers hot springs, hot air ballooning, horseback riding, off-road vehicle riding, hiking and fishing and every imaginable outdoor activity! It is one of the World's most famous sites for Sailplane Soaring. The terrain and air current movements allow pilots to travel as much as 1,000 miles or more in a day and reach altitudes as high as 35,000'- without a motor! The local ski resorts are also deservedly famous and Carson Valley Casinos are known far and wide!
Golfers are well provided for with 4 courses offering a variety of terrain and challenges.
With Nevada's low tax structure, natural beauty, controlled growth and quality of life, it is no wonder the Carson Valley continues to be known as "The Garden Spot of Nevada". Follow the links below for information about Carson Valley.
THE CLIMATE FOR YEAR ROUND, OUTDOOR ACTIVITY! (Climate link)
The high "desert" conditions provide a comfortable, year-round living environment. There are normally 320+ days of sunshine per year in areas east of the Sierra Nevada, (Carson City, Carson Valley, Douglas Co.) There is an average annual precipitation of about 10″, while the Lake Tahoe side of the mountains has the snowfall that makes the area a winter sports mecca.
Summer daytime temperatures range up to the low 90s, with often less than 15% humidity, allowing for comfortable outdoor activities. Most summer rain comes as brief thunderstorms or showers in the late afternoon- mostly in the mountains. Night-time temps can often be as much as 45 degrees cooler, making for very comfortable evenings and sleeping conditions. Many homes do not have or need air conditioning although there are times when it would be very welcome!
Winter daytime temps are moderate in the afternoon, with most snowfall between Dec. and March. East of the Sierra the average snowfall is less than 20″ per year and snow coverage usually melts and evaporates within 2 or 3 days without a lot of slush! Fog is rare, usually occurring early on winter mornings and burning off quickly.
As a contrast, Lake Tahoe area temps. are milder in summer, with typical alpine winter conditions. Daytime temps range from a high and low of 36 & 16 in January, to 83 & 45 in July. Annual rainfall is 8-9 in. and snowfall averages close to 20 feet.
Skiing
Golf
Soaring NV
Douglas County Offices
Record Courier (Minden/Gardnerville)
Nevada Appeal Newspaper (Carson City)
Carson Valley info (CV Visitors Authority-Carson Valley Nevada)
Carson City info
Nevada Taxpayers Association